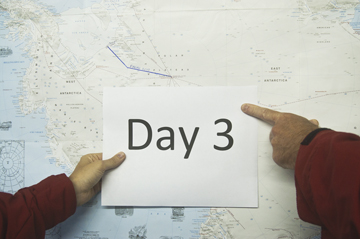 Hours Traveled: 8 hrs and 11.5 miles
Distance to pole: 541.5 miles
Translation from voice mail: Hi, this is Chris and Marty calling in to give you an update from today. Well, it was another beautiful day here and nice and sunny, winds are picking up towards the end of the day and it was definitely getting colder. We had a really good day. Eight hours out pulling sleds today. Covered eleven and a half miles, so we're definitely feeling, feeling good about that.
I thought I'd give you a little bit of what our day in the life here looks like. Well, we get up at 6 a.m.. And then we have a quick breakfast of some hot chocolate and coffee, and some special oatmeal mix. And then we are on the trail by about 8:15, 8:30 somewhere in there. And then we, about every hour and a half we take a break from pulling our sleds and have a quick snack. No longer than ten minute break otherwise we get really cold. And then we keep going, and that's what we do all day until we're done.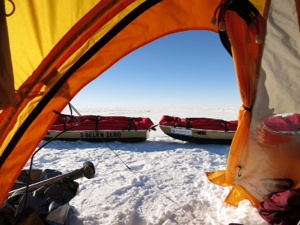 And then we set up our tent. As we arrive we set the tent quick as we can cause you start to get pretty cold. And then we hop in and eat the rest of our snacks from the lunch that we didn't have. We get a little treat with some Pringles potato chips right when we get here. And that's been pretty satisfying to get to have, and then we make our soup. And our dinner. And we try to get the bed by between 9 and 10.
So that's what it looks like here. We're both feeling good and just feeling really grateful to be here and looking forward to another day tomorrow. The weather outside looks like it's getting a bit cloudy and a little colder. So we'll see what that brings. And we'll be, chatting with you tomorrow with some more insights from Antarctica. Okay, over and out. Bye bye