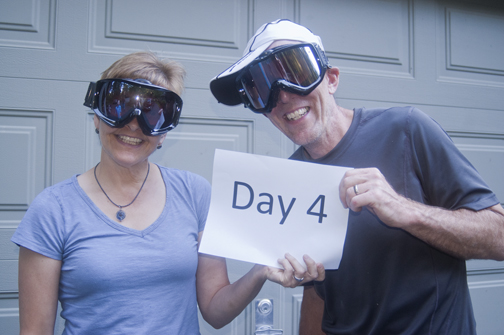 Hours traveled: 8 hrs and 9.5 miles
Distance to pole: 532 miles
Translation from voicemail: Hi this is Chris and Marty calling in from Antarctica on day four of our crazy expedition. So we woke up this morning to a "Welcome to a wild Antarctica" morning. It was blowing like crazy, really low visibility, drifted snow all over the place, and we had to get out in it and pack up our tent and get going in that so that was a pretty good challenge.
And today we were able to cover about nine and a half miles out on the trail for eight hours. So we experienced a bit of soft snow. kinda drifted over. That was kinda tough, along with some of the climbing. Seemed like there were some long slow hills going on.
But anyway I thought I'd give you a little bit more information about what it's like in our tent tonight. And so we just ate dinner and we had some lovely seafood chowder to start our dinner off. And then followed by our chicken and noodles that we're actually still waiting to eat. It's re-hydrating right now. And we're sitting in here and surrounded by a whole array of clothing and different items hanging and drying, our socks, our goggles, folding items from the day because they get a little bit wet.
And then actually inside of our tent, because it is sunny out and kind of this greenhouse effect, it's about 40 to 50 degrees in here. So it's pretty warm compared to outside. So we're actually pretty comfortable in here and let's see. We were just listening to a little bit of music to pass the time tonight. We were listening to the Lord of The RIngs sound track that we a have on. We have this little speaker that we hook in to our iPod so we can listen to music and it was a great day. So that's it for today and we will be back tomorrow. Thanks for listening, bye.