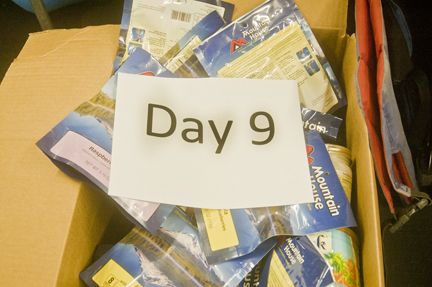 Hours Traveled: 9
Miles Traveled: 13.1
Total miles traveled: 90.9
Elevation: 2400 feet
Translation from voicemail: Hi, this is team 3belowzero, day nine. Well, what a difference a day can make, yesterday was crazy windy as we said, but today Antarctica was kind to us, and it was a gentle breeze of about five miles per hour and great weather. So, we were experiencing a lot though of what is called sastrugi. Which is windblown kinda waves of snow that are kinda frozen in place. So you're skiing over these bumps basically all day. They were smaller, well in relation to other ones we're gonna see later, but they definitely are challenging to try to make sure you can stay up on your skis and not be jerked backwards by your sled. We were able to push out nine hours and thirteen miles. So, yeah a new record for us.
And just wanted to mention for some reason these, these voice blogs can only last three minutes. So when they cut off we apologize. We're checking into that.
So, I wanted to answer a couple of questions. I started talking yesterday about tire pull training and how that worked. And how it simulates what we're doing. And actually it was really, it was really good to simulate all the pulling on your back and your muscles. What we are probably kind of missing was pulling those over maybe a boulder field of rocks or something because that was so different today Overall that was really good training.
There was another question about, do we have access to weather forecasts? That was from Susan in Washington. And we actually do call in to report our position everyday. And the people that we call are able to give us a little bit of information about weather. And it's been pretty good although they didn't predict the big winds that we saw the other day so we can't totally rely on it but, it's good to hear a little report.
We also had a question about what are we reading. And actually we don't have time to read right now, but we do have some audio books that we hope to be listening to and will report back when we actually start listening to those. We only started listening to our music a few days ago. So before we run out I just wanted to give a shout out to our son Keenan for being so strong while we are gone. We love you so much, and we think about you all the time. So, we also want to thank all of you who are continuing to listen in, and send us your comments and people that we call back in Seattle will read them to us if you comment on our blog or Facebook. Okay, thanks so much. Bye.