Day 28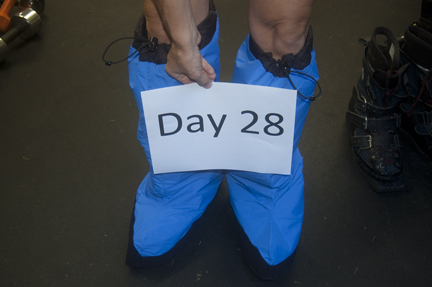 Hours traveled: 9
Miles traveled: 14
Total miles traveled: 334.9
Miles to pole: 242
Elevation: 6088 ft.
Translation from voicemail: All right, Team 3belowzero guest host Marty here and it is Day 28. Chris and I have been doing this for four weeks now. So in honor of that I'm gonna walk you through what the day looks like for us and I want to try to do it quickly and get through the whole day
0600, which is 6 a.m., we wake up, person in charge of cooking, Chris today, is supposed to get up right away and pop out of bed and start cooking. Today both of us overslept by like nine minutes, but we still got it going. The person in charge of cooking gets up, starts getting some hot water going and we have hot chocolate with some coffee in it, oatmeal, which we put a couple of chunks of Theo chocolate and a hunk of butter in it. We eat that.
While one person is cooking the other person is packing up their stuff. We're trying to be quick and efficient. We also try to get our, you know, business done during that time. This morning it was eighteen Fahrenheit in our tent and about zero outside, so it was a little bit chilly.
So I go out, as soon as I get done eating I throw my stuff, throw my stuff out the door. I start packing the sled and I start digging out the tent. Chris finishes up, and she gets packed up, and gets her stuff out and throws it in the sled, and together we both get the tent down. After that we get our skis on, our compass holder on, our sledding harness on and we try to be on the move by 07:45, earlier if we could. We have a, we did 07:30 once.
The lead person takes off, navigates for about an hour, and then we switch. We don't get to talk much. We're just single file all day long. On today we had a mix of soft snow, winds, up hill, bumpy. And for the last two hours we couldn't hardly see anything. We had such low contrast. And right now it's really cold in our tent. Okay, we went for nine hours today and as soon as we get to camp we have to do sort of all of that in reverse.
Chris is still in charge of cooking because that's her day today and right now she's melting lots of snow into water of course. She just made some ramen noodles. And now we're gonna have macaroni and cheese, very shortly and every two days we gave our son Keenan a call. We're gonna do that. Today, since it was low contrast, we couldn't tell how flat our tent site was and it is not flat. Both our beds are leaning sideways. That's how we have to sleep for tonight. So, okay, we've done that twenty eight days in a row. So I hope I wrapped that up quick enough because I am about out of time. Thank you to the Karrs for taking care of Keenan this week. See yah!