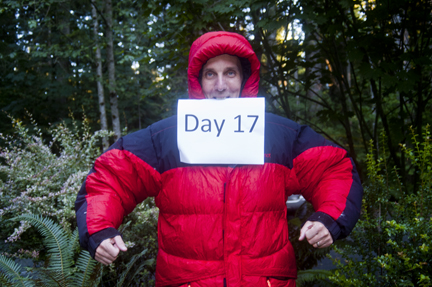 Hours traveled: 9.5
Miles traveled: 14
Total miles traveled: 194.8
Elevation: 4090 feet
Translation from voicemail: Hi, its Chris and Marty, Day 17 and thought we'd just walk you through what happened today. Give you a sense of our day. Just like usual we get up at 6 a.m. and we're out on the trail by 8 o'clock. That's pretty good for us, a couple hours to get going. And within the first hour I had discovered I had over dressed a bit because it was really cold and windy yesterday and I got cold so I thought I would wear heavier thermal underwear today, long johns, and anyway that proved to be the wrong decision.
And I actually stopped on the trail and completely changed clothes at 5F degrees outside. But, it was well worth it because we had really good snow conditions for about the first four hours today. So we could pick up our pace a little bit. And that was really great, and then we hit the big sastrugi fields again. Which is the wind blown waves of frozen snow. You basically kinda have to zigzag around this maze of choppy snow. So that slowed us down a bit. But we were able to end the day with some decent snow again. So we had our biggest day yet with 14 miles, so we were really excited about that.
And in case you were wondering we're now at about 195 miles that we've covered. And we have 376 miles to go to reach the South Pole. So we are definitely making some progress and we are feeling good about that.
Wanted to answer one question today. Mrs. Bradburn's third grade class from Opstad (Elementary) in North Bend, How do you plan to celebrate Christmas?
And we were just talking about that. We, if it works out, we might take that day off. And that would be a big celebration, to have a rest day. And we also have packed a special meal. Which is kind of like stuffing, mash potatoes, gravy, and a meat like product. He, he, and I actually packed some little surprise gifts that I'll give Marty. They're kinda for both of us and so that's what our Christmas will look like.
All right, so I want to give a shout out to our good friend Leni Karr for all that she's been doing to help us out. So I read this on the wall, my tent wall and it reminded me of you because she wrote it. And she wrote, "While you pull your sled we're all pulling for you, family, friends and fans. We're behind you all the way". And when I read that, that just gives me some motivation. Because I love knowing all of that. So thank you so.