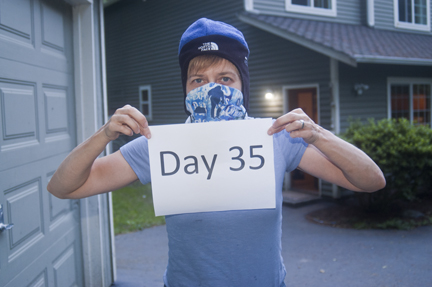 Hours traveled: 9.5
Miles traveled: 13
Total miles traveled: 418.9
Miles to pole: 160
Translation from voicemail: Well hello, it's Chris, Team 3belowzero, Day 35. Well, today all we wanted to do was actually just thank all of you for following along and for all your support. We can really feel your positive energy, your prayers, your good vibrations, your well wishes. Whatever you wanna call it, we can feel it. It's great and well, if you happen to have some magical powers as well we would love for you to employ those for the weather gods, low winds, sunny and that's what we would love to have over the next week or so. But what you know, really, If you could keep up all those well wishes for us. We will take anything we can get to help us reach our goal.
We just took Inventory of our food and we have twelve and a half and half days of food left. And so we are going to make it the pole in twelve days. That's what we need to have happen. We don't want to go on half rations. That would be really hard so we had originally planned for forty to forty five days for this expedition and it looks like it's gonna take us maybe about forty seven. So luckily, early on we didn't eat all of our food and we saved it so we got a couple of extra days that we been carrying along with us.
So twelve days from now, or, or sooner, one hundred and sixty miles to go, thirteen point four miles a day we need to do. We're gonna do it. And we, we thank you for all your powerful thoughts. We feel your power, we feel like you guys are all our third person on our team, 3belowzero. All right, thanks, talk to you tomorrow, bye.