Today I find myself sitting in a peaceful, glass room located on top of IIaia hotel, our home away from home while we continue to wait for the weather to break so we can fly to Antarctica.  Instead of calling in a voice blog, I decided to write this one since we have internet access for another day. (We are not bringing a computer to Antarctica but will leave voice blogs each day.)
Soft piano music and distant sounds of birds fill the air; the intense Chilean sun warms my body, relaxes my mind.  As I look out the window to the South, I see large whitecaps caused by the 30-35 mph winds that greeted us earlier during our morning jog.  Marty sits next to me on the salmon couch; he's taking the extra time to learn advanced features of our new Canon camera.
I just got off the phone with my friend Leni back in North Bend; we were testing technology that she'll use to send us questions while we are in Antarctica that are submitted on our website.   Earlier we spoke to our son Keenan.  As Marty was wrapping up our call he said, "Keenan, how are you doing with us being gone?  You know we really miss you."  The heartfelt way Marty asked the question instantly brought tears to my eyes.  It's been a week since we left home, the longest we have ever been away from Keenan (and we aren't even in Antarctica yet).
With all of the last minute preparations complete, we have a little extra time to think and contemplate before we hit the ice.  Reflecting on the past 3 years, Marty and I chatted about how much time and money we've invested in this adventure.  Why an adventure and not a cabin in the mountains, a boat or  new luxury car?  It's simple.  We believe this adventure will shape the next decade of our lives, like the way a birth puts your life on a certain trajectory.  And if we are lucky, we may just send waves of inspiration to the kids that are following along, including our son.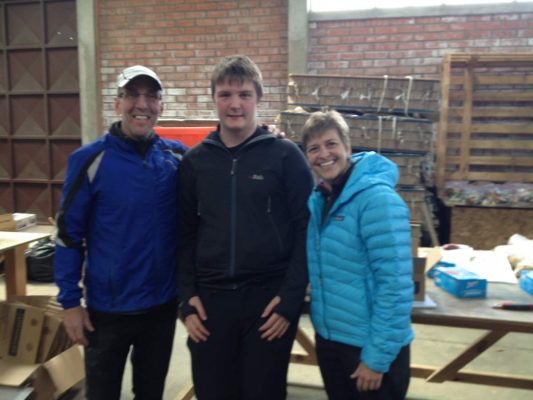 The first day that we arrived in Punta Arenas we met, Lewis Clarke, a 16-year old sturdy Brit who plans to ski with a guide to the South Pole.  If he makes it, he will be the youngest to ever complete the journey.   When I asked him where he got the idea, he told me that at the age of 13, his interest peaked when he heard a firsthand story of a local man going to the South Pole.  Now, a few days after turning 16, Lewis waits to take the same plane as us to Antarctica.  His mother emailed me the day we arrived to let me know I would likely meet her son, and that while I was missing Keenan back home (she was following our blog), she was missing her son while he was here.  Mothers connected across the oceans.
Also staying at our hotel is Vesa Luomala, a Finn who will attempt to ski solo to the South Pole.  We've enjoyed his humble demeanor, friendly smile, and his quiet confidence in his ability to take on the upcoming challenge.  Throughout our week in Punta Arenas we've met most of the teams preparing themselves to depart.  We gain a sense of camaraderie as we head out on our own.
Recent posts on Adventure Blog and ExplorersWeb  highlight some of the other teams waiting here in Punta Arenas, Chile.  We wish Lewis, Vesa and all the other teams the best on their various ventures in Antarctica.