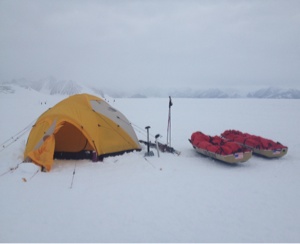 Distance to Pole: 600 miles
Temperature: 10F
Elevation: 2,297 feet
Hi this is Chris calling in from Antarctica. Yes, we finally arrived here. This morning we got on a flight from Punta Arenas around midnight last night, pretty exciting. And it was a four and a half hour flight to get here, and we were on this crazy plane, the cargo plane, so it's nothing like you've ever experienced before.
And we arrived here and got our tent set up, and had some food, and we are at this base camp area on Union Glacier, got a few hours of sleep, and kind of are organizing our gear today.
It's actually a balmy ten degrees here today. And only a wind speed of one to two miles an hour so kind of amazing how warm it feels here. But I'm sure that'll change.
We are waiting to fly out to our starting destination. We found out we will not be able to go tomorrow because there is not good weather where we are going. There are some heavy clouds. So we are going to be here tomorrow as well. So we will kinda of get our, test all of our systems a final time now that we are here. But we're so excited to finally be here and wish you all Happy Thanksgiving yesterday and can't wait to report to you about actually moving along on our expedition here, but we are super excited to be here and will talk to you soon. Bye
Listen to the audio version of the Fagan's dispatch from Antarctica: