Sorry for the long delay in updating.  We've been spending our time focusing on Keenan and trying to avoid the computer!  We will continue leaving written blogs with updates about our re-entry into the world (blogs will likely not be daily though).
As you probably know, we arrived at SeaTac airport on Thursday, January 23rd around 5:00pm. How amazing to think that we were at the South Pole on Saturday, January 18th and five days later we were home.  It could have taken us over a week just to get out of Antarctica, so we were beyond thankful that all of our flights went smoothly.  For those of you who are interested, here's how we made our way home:
Saturday, January 18th slept at the South Pole
Sunday, January 19th flew from South Pole back to Union Glacier, Antarctica, slept there 2 nights
Tuesday, January 21st flew from Antarctica to Punta Arenas, Chile
Wednesday, January 22nd flew from Punta Arenas, Chile to Santiago, Chile
Thursday, January 23rd flew from Santiago to Panama City to Houston to Seattle!!
We arrived home to a warm welcome from family and friends at the airport.  They are the best!!!  Thanks everyone!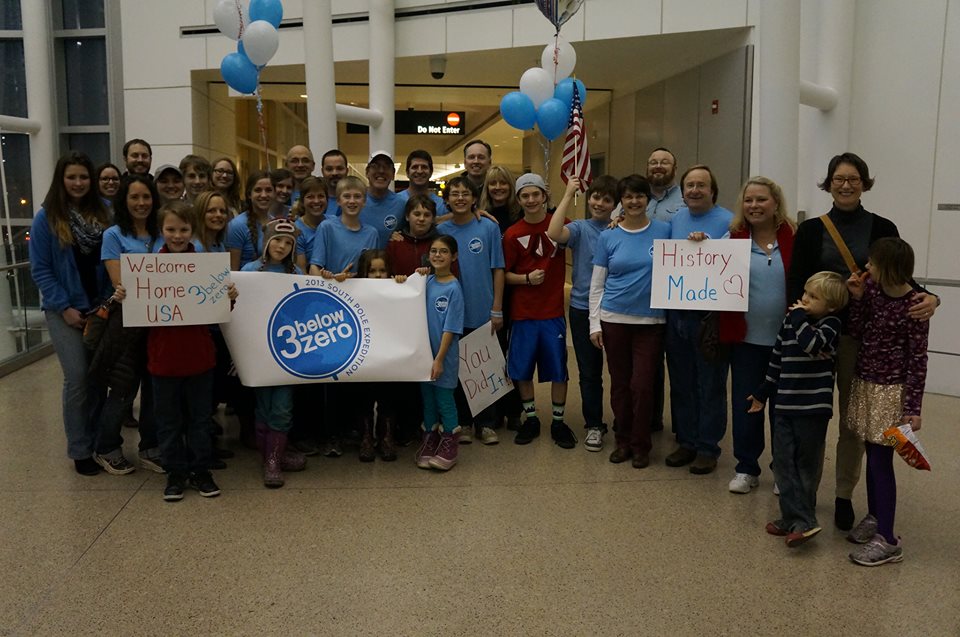 Here's a link to a short news story showing our arrival.
At our house there were welcome home signs and other decorations displayed outside and inside our house.  Friends stocked our refrigerator with amazing food so we wouldn't have to grocery shop. Our kitchen table had platters of our favorite sweet treats (chocolate chip cookies and lemon bars).  There was a bottle of wine and champagne, and a variety of welcome home cards.  We even had a stack of letters from the 3rd graders at Opsted Elementary School.
The entire weekend was a Fagan family slumber party.  As we had promised Keenan, we moved his mattress onto the floor in our bedroom, along with our dog's bed. The first night in our own bed was heavenly.  We slept 11 hours straight!  We kept Keenan home from school on Friday so we could have extra time together.  All weekend long we ate, watched movies, played family games and slept.  I can't think of a better way to get reconnected with Keenan and just relax in North Bend.
Yesterday Marty and I decided to get a little exercise as we'd been laying around and eating for over a week and our bodies were getting kind of stiff!  It is hard to describe our 3 mile slow jog.  After pulling sleds for 48 days, our bodies seemed to forget how to jog!
I thought I would share a few more photos.  Here's a photo of us right after we arrived at the pole and are inside the warm tent with heat, chairs and food!
Here's another photo looking down at Antarctica as we flew back to Union Glacier: