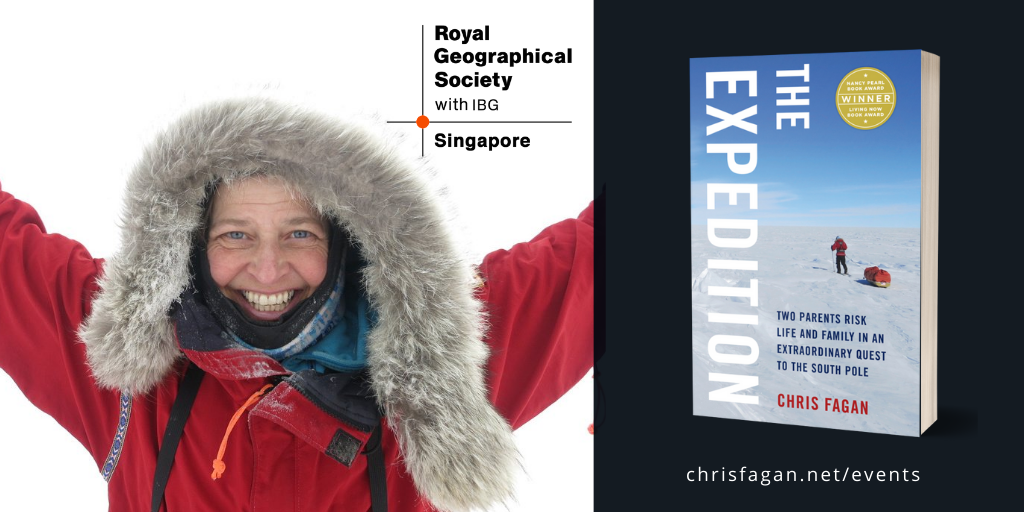 Royal Geographical Society of Singapore Presents "A Married Couple's South Pole Quest" with Chris Fagan
Join the Royal Geographical Society of Singapore and Adventurer/Author Chris Fagan as she shares the story of her daring expedition to the South Pole with her husband on 28 October at 7.30pm Singapore Time (GMT+8)!
Expect a thrilling virtual trip through the cold, windswept interior of Antarctica featuring spectacular photos and poignant stories. Please sign up for the webinar here:  https://professionalspeakersaustralia.zoom.us/webinar/register/WN_9hHKyaYCQtyyKsFKIQ7CSA
Chris Fagan and her husband became the first American married couple to ski without guide, resupply or other assistance to the South Pole, and became Guinness World Record holders. This husband and wife team journeyed 570 miles over 48 days from the edge of Antarctica to the South Pole. They stretched their minds, bodies, and marriage to the limit in the process of exploring one of the last wild frontiers on Earth in the midst of accelerating climate change. Riveting and inspiring, the story is about geography and exploration, the power of family and community, the adventurous spirit that dwells within us all, and breaking through to feel fully alive.
About the Speaker:
Chris Fagan has summited Denali in Alaska, ran 100-mile trail races through the mountains, canoed the hippo-infested Zambezi River in Zimbabwe, biked through remote Tanzania, and sailed/paddled through the Inside Passage in Alaska. Her adventurous spirit shines through in her work as a consultant, trainer, and writer. She lives in the Pacific Northwest with her husband, teenage son, and Labrador Retriever, Winston. Chris has also detailed her journey in the award-winning book, The Expedition: Two Parents Risk Life and Family in an Extraordinary Quest to the South Pole.