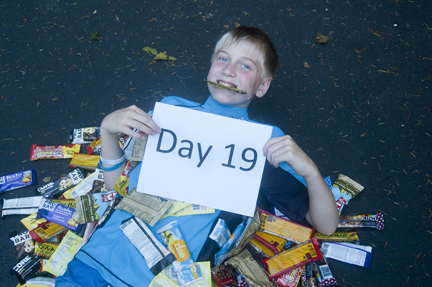 Hours traveled: 8
Distance traveled: 12.7 miles
Total distance traveled: 221.5 miles
Distance to pole: 353 miles
Elevation: 4382 feet
Translation from voicemail: Hello, it's Chris calling from 3belowzero, Day 19. And today we are calling the Fagan rest day. For the last ten days we've done nine or nine and a half hours out on the trail and we thought we needed to back it off a little bit so our "rest day" in quotes is eight hours. So we did eight hours today and trying to recuperate a little bit tonight for a little extra time in the tent.
It was cloudy all day. Which was something new for us. And so not seeing the sun all day was a little colder. And as we sit in the tent tonight it's a little bit cold in here without the sun creating that greenhouse effect for us.
I thought I'd share a few ideas, you might call them secrets about the glamorous side of a South Pole expedition. So, first of all you get to wear the same clothes everyday. You don't have to do laundry, awesome. And you don't need any product to style your hair. You can use all natural oils to make your hair do virtually anything you want and create your own South Pole hairstyles. You get to pack up your house every single day. You get a different view every night. Which is pretty cool. And your dehydrated meals are ready to go in ten minutes. So you never have to wonder what's for dinner because it's already been all pre-planned. And your hole in the ground bathroom always has brisk fresh air blowing through it. So there's no stinkiness in our bathroom ever.  And finally were on the ultimate couples get away. Because we have real togetherness 24-7, that's right. So that's what it kinda looks like.
I wanted to give a shout out to my sister Jean McGuire who is watching Keenan this week. Thanks so much. That's so awesome that you came out from Alabama to spend time with him. Also my sister Sue Mocker who is, lives in North Bend and has been doing a lot of help with Keenan over the last nineteen days to a month that we have been gone so we really appreciate both of you. I am lucky to have such wonderful sisters to rely on and give us a lot of peace of mind while we are out here doing our thing. That's it for today. We will be back chatting with you tomorrow. Have a great evening or day. Bye, bye.