Today, women adventurers challenge boundaries and redefine what it means to be bold and brave in the wild. They test limits of mind and body, demonstrate resilience, and live authentic lives close to nature. These nine adventure books, published by women in 2019, offer profoundly personal stories full of humor and heartache, wisdom and struggle. Amp up your inspiration with insights from the woman who homesteads high in the Colorado Rockies or from the gal who, with her husband, became the first American married couple to ski unsupported to the South Pole (full disclosure, that's me).
The Sun is A Compass: A 4,000 Mile Journey into the Alaskan Wilds by Caroline Van Hemert (March 2019)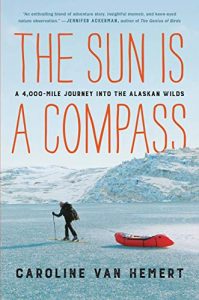 During graduate school, ornithologist Caroline Van Hemert began to feel stifled in the sterile environment of the lab. Worried that she was losing her passion for scientific research, she was compelled to experience wildness again, to be guided by the sounds of birds, and to follow the trails of animals.
Caroline and her husband set off on a 4,000-mile wilderness journey from the Pacific rainforest to the Alaskan Arctic, traveling by rowboat, ski, foot, raft, and canoe. Together, they survived harrowing dangers while also experiencing incredible moments of joy and grace — migrating birds silhouetted against the moon, the steamy breath of caribou, and the bond that comes from sharing such experiences.
A unique blend of science and personal narrative, the book explores the bounds of the physical body and the tenuousness of life in the company of creatures whose daily survival is nothing short of miraculous. It is a journey through the heart, the mind, and some of the wildest places left in North America.
Available on Amazon. Learn more: Website | Instagram | Facebook
Thirst: 2600 Miles to Home by Heather Anderson (March 2019)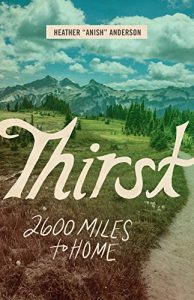 By age 25, Heather Anderson had hiked what is known as the "Triple Crown" of backpacking: the Appalachian Trail (AT), Pacific Crest Trail (PCT), and Continental Divide Trail (CDT)—a combined distance of 7,900 miles. A few years later, she left her job, her marriage, and a dissatisfied life and walked back into those mountains.
In her memoir, Thirst: 2600 Miles to Home, Heather conveys not only her athleticism and wilderness adventures, but also shares her clear message of courage. Her willingness to turn away from the predictability of more traditional life to seek out what most fulfills her. Amid the rigors of the trail–pain, fear, loneliness, and dangers–she discovers the greater rewards of community and of self, conquering her doubts and building confidence.
Heather holds overall self-supported Fastest Known Times (FKTs) on the Pacific Crest Trail (2013)—hiking it in 60 days, 17 hours, 12 minutes.
Available on Amazon. Learn more: Website | Instagram | Facebook | Twitter
This Much Country by Kristin Knight Pace (March 2019)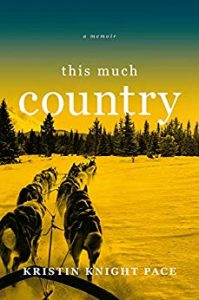 A memoir of heartbreak, thousand-mile races, the endless Alaskan wilderness, and many dogs from one of only a handful of women to have completed both the Yukon Quest and the Iditarod.
In 2009, after a crippling divorce that left her heartbroken and directionless, Kristin decided to accept an offer to live at a friend's cabin outside of Denali National Park in Alaska for a few months. In exchange for housing, she would take care of her friend's eight sled dogs. That winter, Kristin learned how to survive, alone, in one of the most remote places on earth. She fell in love twice: first with running sled dogs, and then with Andy.
Then Kristin became determined to complete the Iditarod — the 1,000-mile dogsled race from Anchorage, in south-central Alaska, to Nome on the western Bering Sea coast.
This Much Country is about journeying across a wild and unpredictable landscape and finding inner peace, courage, and a true home.
Available on Amazon. Learn more: Website | Instagram | Facebook
Rising: Becoming the First North American Woman on Everest by Sharon Wood (October 2019)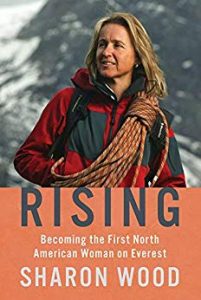 In 1986, as part of a Canadian team, Sharon Wood became the first woman from the Americas to summit Mount Everest—and the first woman in the world to do so via the West Ridge from Tibet and without Sherpa support.
In Rising, Wood shares the motivation that drove her to reach further heights in the years leading up to the career-defining climb. Often the only woman on expeditions, Wood was an outlier in a predominantly male world. She explores the camaraderie and rivalry, the challenges of falling in and out of love, and how she kept her drive to persevere.
Wood's perspective is steeped in six decades of life experience. It is a testament to the strength of the human spirit to overcome all obstacles, whether mountain peaks, social expectations, or self-imposed barriers.
Available on Amazon. Learn more: Website
Running Home: A Memoir by Katie Arnold (March 2019)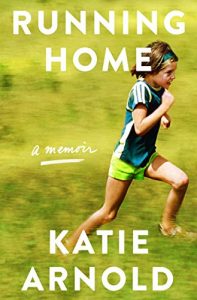 For over a decade, Katie Arnold chased adventure around the world, reporting on extreme athletes. After she married, Katie and her husband vowed to raise their daughters to be adventurous, too. But when her father died of cancer, she was forced to confront her own mortality.
Katie and her father, an enigmatic photographer for National Geographic, had always been kindred spirits. He introduced her to the outdoors and taught her to find solace in the natural world.
Now terrified she was dying, too, she turned to the thing that had always made her feel most alive: running. Over three tumultuous years, she ran alone through the wilderness, first a 50-kilometer ultramarathon, then 50 miles, then 100 kilometers. As she clocked miles, Katie learned to face her fears of uncertainty and vulnerability.
Mesmerizing and exhilarating, Running Home is a book for anyone who has been knocked over by life or feels the pull of something bigger and wilder within themselves.
Available on Amazon. Learn more: Website | Instagram | Facebook | Twitter
Deep Creek: Finding Hope in the High Country by Pam Houston (January 2019)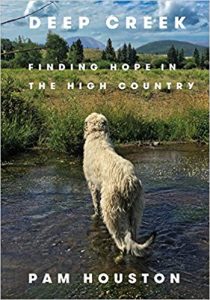 On her 120-acre homestead high in the Colorado Rockies, beloved writer Pam Houston learns what it means to care for a piece of land and the creatures on it. Elk calves and bluebirds mark the changing seasons, winter temperatures drop to 35 below, and lightning sparks a 110,000-acre wildfire, threatening her century-old barn and all its inhabitants. Through her travels from the Gulf of Mexico to Alaska, she explores what ties her to the earth, the ranch most of all. Alongside her devoted Irish wolfhounds and a spirited troupe of horses, donkeys, and Icelandic sheep, the ranch becomes Houston's sanctuary, a place where she discovers how the natural world has mothered and healed her after a childhood of horrific parental abuse and neglect.
In essays as lucid and invigorating as mountain air, Deep Creek delivers Houston's most profound meditations yet on how "to live simultaneously inside the wonder and the grief…to love the damaged world and do what I can to help it thrive."
Available on Amazon. Learn more: Website | Instagram | Facebook | Twitter
She Explores: Stories of Life Changing Adventures on the Road and in the Wild by Gale Straub (March 2019)
For every woman who has ever been called outdoorsy comes a collection of stories that inspires unforgettable adventure. She Explores is a spirited celebration of female bravery and courage.
Combining breathtaking travel photography with compelling personal narratives, She Explores shares the stories of 40 diverse women on unforgettable journeys in nature: women who live out of vans, trucks, and vintage trailers, hiking the wild, cooking meals over campfires, and sleeping under the stars. Women biking through the countryside, embarking on an unknown road trip, or backpacking through the outdoors with their young children in tow.
Complementing the narratives are practical tips and advice for women planning their own trips. This book presents a visually stunning and emotionally satisfying collection for any woman craving new landscapes and adventures.
Available on Amazon.  Learn more: Website | Instagram | Facebook | Twitter
Down River: Into the Future of Water in the West by Heather Hansman (March 2019)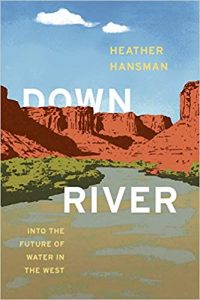 The Green River, the most significant tributary of the Colorado River, runs 730 miles from the glaciers of Wyoming to the desert canyons of Utah. It provides water for 33 million people. Stopped up by dams, slaked off by irrigation, and dried up by cities, the Green is crucial, overused, and at-risk, now more than ever.
Fights over the river's water, are longstanding, intractable, and only getting worse as the West gets hotter and drier. As a former raft guide and an environmental reporter, Heather Hansman set out on a journey, in a one-person inflatable pack raft, to paddle the river from source to confluence and see what the experience might teach her. Mixing lyrical accounts of quiet paddling through breathtaking beauty with nights spent camping solo and lively discussions with farmers, city officials, and other people met along the way, Downriver is the story of that journey, a foray into the present—and future—of water in the West.
Available on Amazon. Learn more: Website | Instagram | Twitter
I was inspired by reading the previous 8 books; I wrote my book, The Expedition, in the hopes of inspiring others to follow their dreams.
The Expedition: Two Parents Risk Life and Family in an Extraordinary Quest to the South Pole by Chris Fagan (September 2019)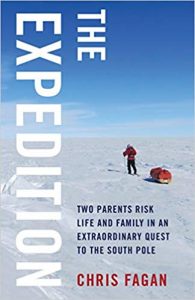 Meet Chris and Marty―a married couple at midlife who suddenly find themselves weighing the responsibility of parenthood against the possibility of one more grand adventure, before their aging bodies and the warming continent of Antarctica further degrade. They ultimately decide to pursue their biggest dream: Ski 570 miles from the edge of Antarctica to the South Pole. With no guide or resupply.
After three years of intense planning and training, including meticulous preparations for the care of their twelve-year-old son, they are ready.
Experience a boundless white wonderland like no other on earth. Feel the intensity of 220-pound sleds, relentless wind, 40-below temperatures, and mind-numbing isolation. Chris and Marty go where few others have dared on the way to making history―stretching their bodies, minds, and marriage to the limit in the process. Riveting and inspiring, The Expedition is about the power of family and community, the adventurous spirit that dwells within us all, and breaking through to feel fully alive.
Available on Amazon. Learn more: Website | Instagram | Facebook | Twitter
Note: The book descriptions that appear in this article are excerpts from those that appear on Amazon.com for each book.
About the Author:
Chris Fagan is an adventurer, speaker, and business consultant who shares the outdoors with her husband, teenage son, and lab Winston. She's the author of The Expedition: Two Parents Risk Life and Family in an Extraordinary Quest to the South Pole. Learn more at www.chrisfagan.net or follow her on Facebook, Instagram, or Twitter.