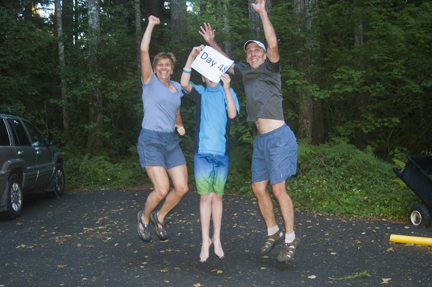 We're at the South Pole! Yes, it's Day 48 and you may have already heard. We have arrived at the South Pole (10:00 a.m. Pacific Standard Time). Oh my gosh, today was, was another tough day thrown at us. It was the coldest day that we've ever had here. It was -50 below with the wind chill, Fahrenheit. So that was very, very stressful to deal with the cold. Marty's hands were really cold most of the day as we traveled. We did not take our regular breaks to eat because it was just too cold. We were afraid to get so cold. We ended up just barely eating anything and, you know, basically you're almost at the pole and then you have to turn left, ski away from it and then go around. So we kind of had a tour, a circular tour of the pole before we could actually pull in here. But, we even threw on our big down jackets as we did the final leg to get in, just to get warm.
So right before we got here we pulled out the sat phone. And we called Keenan and let him know that we were here and that was really an emotional moment for us.
Excuse me, the company that flew us here, (Antarctic Logistics and Expeditions, A.L.E.) has a, kind of like a luxury tent set up. It's heated. There are tables and chairs and It feels luxurious just like a tent, but it's heated. There are tables and chairs and they had all this food prepared so that was just so awesome when we got here and got to have that. And, you know, now we get to sleep in these tents they already have set up so we don't have to pull our tent out.
So basically we will be here tonight, tour the South Pole Station tomorrow and fly back to Union Glacier, (A.L.E. base camp) tomorrow afternoon, weather permitting. And we'll be, hopefully, on our way back home to Chile and Seattle soon.
So we're just so happy to be done. So proud of what we were able to accomplish, and most of all we hope we inspired some of you that have been following along. You guys just been awesome and just the support that everybody's given us has been amazing and we just can't say enough for what everybody has done to help us to get here. Well, Marty says all the emotions are coming out now. He keeps crying at different moments realizing just what an accomplishment and the stress, it's kinda coming out of our bodies now. So that's if for today. It's a great day. Thanks for following, bye.