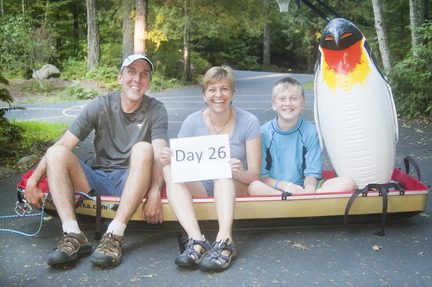 Hours traveled: 9
Miles traveled: 12.5
Total miles traveled: 306.4
Miles to pole: 270
Elevation: 5657 ft.
Translation from voicemail: Hello, it's Day 26 here in Antarctica. Well, we went to bed last night and it was actually snowing. Which is kind of a rare thing here because Antarctica is a desert. And woke up and it was still snowing a bit and consequently it was really low clouds that turned into a big whiteout. And this, and the wind was also coming from the north still so while we've been walking into the wind for twenty five days today the wind was coming from our back.
For three hours this morning we were walking in a white out, which is a little bit crazy. You're literally just staring at your compass, very tiring and you feel like you are inching your way across Antarctica.
Then the next four hours we had sort of low visibility where you could kinda barely see some contours in the snow through your foggy goggles. And that was very tiring.
And then I don't know, just out the blue, clear. The last few hours were just clear. So Antarctica showed us many sides of her personality today and in that white out it was getting really cold because there was no sun, of course, and my bum was actually getting cold. So I had to stash in this little warmer thing hanging from the back of my harness to prevent the wind from getting me too cold. So it was kind of interesting.
I was listening to the audio book called Aviator today and as I was listening to that they were describing the first people who were flying airplanes blind, meaning using a compass and chronometer and some other things. And it made me think that's exactly what our day was like we're kind of just navigating blind all day, which is kind of interesting.
Well, today marks the, as I said day twenty six and for me and I think Marty too. This is the longest we've ever been on an expedition. Prior to that (this) my longest expedition was twenty five days on Mount Mckinley in Alaska in 1998. So, new landmark for me and I was on that expedition with a few women. One of them was Susan Wright Gieger so today I want to say hi to her, thinking of you and remembering those great times up on Mount McKinley and wishing you the best and thanks for following along. All right, talk to you all tomorrow, bye bye.
From expedition email to basecamp:
We crossed south 86 today! Now at 86 degrees 06.346
We took a pic of our tech
Iridium sat phone and access point. Thanks to Blue Cosmo for this great gear!
Goal zero battery connects to solar panel. Iphone is where we type all messages. Many teams bring a laptop. We did not.
Thanks
Marty and Chris