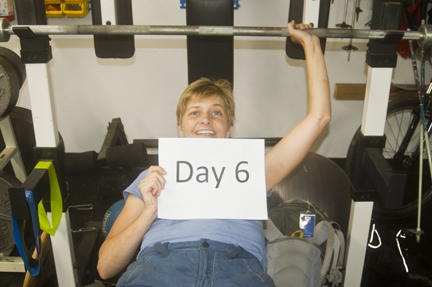 Hours traveled: 8.5
Miles traveled: 12.5
Elevation: 1532 feet 
Translation from voicemail: It's day six in Antarctica. This is Chris. Marty is here with me as well. And today I was listening to a little bit of music on my iPod and it reminded me of home. Alot of the music are songs and things that we play at home and it really made me miss home and especially Keenan. Because, well, we've been on this journey now for six days we have actually been gone from home for three weeks. So starting to feel a little bit long to be away.
Today we woke up and it was nice weather and we decided to dress a little lighter under our coats. And for the first half a day it was actually pretty nice and we were able to make some good time on some on firmer, hard snow. And then about halfway through the day it started getting a lot windier and colder. And you know once you've already decided what to wear for the day you can't really change. So we definitely started getting really cold, especially after when we take a break. And so literally what happens at break time is you, you stop and you try to shovel in as much food as possible. You huddle in a little, and you huddle up, put on your down coat and sit there and try to eat. And for me it is really all about the countdown until my hands start getting really cold and then we need to start again.
So, today Marty and I both got really cold after a break and then instead of taking any more breaks we decided to just push through until we got to camp tonight. And that was really alot of hard work and we really worked hard to get our twelve and a half miles today. It's our new longest today, twelve and a half miles in eight and a half hours. We felt really good about that and we we're really beat when we got to camp tonight.
That's about what the day looked like today and one of the high lights was that today Marty and I really got in sync with our pacing of skiing because somehow Marty's inner Norwegian kicked in and he learned to ski more efficiently and effectively today. And now he's a faster skier so good job Marty. Nice work today. Okay, well we will get back with you tomorrow and a quick shout out to our parents. I miss you guys, and thanks for your thoughts and support.