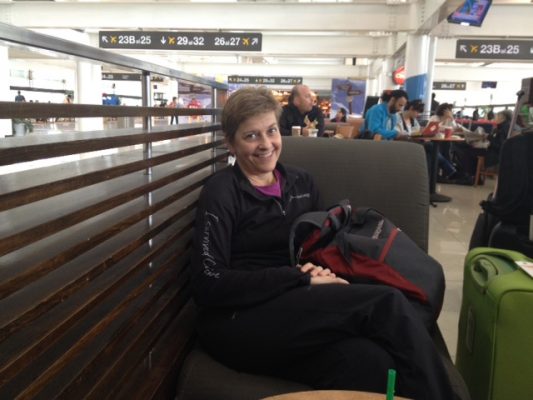 After 19 hours of travel and 3 flights, Marty and I are at our temporary base camp for the day, a café in the Santiago airport.  We have 8 hours until our final flight to Punta Arenas.  Yesterday I wished for more time to collect my thoughts; today I have nothing but time.  My bleary eyes at half-mast tell the story of my state of mind.  With 5 hours of sleep the night before we departed, and a few restless hours of sleep on the plane, I'm now running on fumes.
We have free WiFi access, so I'm able to read all of the wonderful emails and Facebook posts we've received while traveling. The words of encouragement from our tribe of followers and supporters fill my tank with a sense of connection and belonging.
We talked to Keenan after one of our flights yesterday.  He told us that he got up on his own at 7:00am (on a Sunday!), finished building his new Lego set, wrote a thank-you note to our friend Eric (who gave him the Lego set), and completed his math homework – all before 8:30am.  Later we received a text message and photo showing Keenan playing with his good friend Ryo, a welcome distraction for him on our first day away from home.  We're confident Keenan is in good hands.
Time to find a quiet corner to nap.  Dreams of Antarctica await.