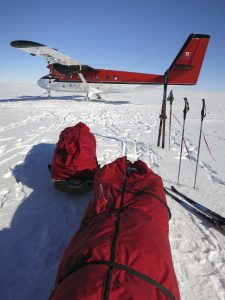 It was one year ago today that Marty and I departed for Antarctica to embark on our 2013 expedition to the South Pole.  Since returning home we've spent luxurious amounts of quality time with our son Keenan; shared our story with countless audiences; enjoyed running, practicing yoga and logging time on our new rowing machine (instead of pulling SUV tires around for countless hours); and we are back to work – Marty's at a new job and I'm re-energizing my business, SparkFire.  We still haven't answered the lingering question that we are so often asked, "What's next?"  We are chewing on a few ideas that include our son Keenan. Stay tuned.
A few days ago, I shared the story of our South Pole journey with a business group.  As I told the story of the small Twin-Otter plane that landed on the edge of Antarctica to drop us off for the start of the journey, I suddenly found myself there, in Antarctica, back experiencing the piercing silence and the weight of the adventure before us.  A smile came over my face as all of the challenges that we experienced (cold hands, white outs, wind blown waves of sastrugi, exhaustion, longing to be with our son) washed through me like an ocean current on it's way to a distant land.  What remained were all of the precious memories that settled into the bedrock of my being.  The gems of Antarctica that I carry with me today – the quiet and solitude, awe-inspiring blue sky, wide-open space, freshness of air, lightness of mind, and deep love and connection – have left me somehow different.
The same day as my business presentation, our friend Keith Heger, a guide with Polar Explorers, told us that he would soon land in Chile on his way to Antarctica.  He is guiding two people on the same route that Marty and I were on last year. I can feel the excitement building for his team and can't wait to follow all of the 2014 expeditions that are heading out on their journeys.
Later that night the blustery wind and 20° temperature in our hometown of North Bend reminded me of the weather we endured while in Antarctica.  While it wasn't 20° in Antarctica (it was a frigid -20°), running in the cold, windy weather (while hopelessly under-dressed for the conditions) took me back to what we endured a year ago.
It's not surprising that today I find myself reflecting on our journey and all that I learned and continue to learn as it settles deep within me.  No doubt it was the hardest physical, mental and emotional experience of my life. The value of the journey, the quest, the opportunity to leave the everyday and be transported to a world of the extraordinary, is immeasurable.
One feeling that I've repeatedly experienced over the past year is one of immense gratitude.  I feel so thankful for the experience of our expedition to the South Pole, but more, for all the people who supported us along the way.  And for knowing that the fire in our hearts that drove us to reach the Pole is still there, waiting to fuel our next adventure, and deliver us more invaluable gems.
We wish all of those heading out on a South Pole expedition in the coming weeks good weather, warm hands and full hearts.